Bring joy to a child at a time they need it most. Please consider being a Christmas Champion and help give the approximately 100 children who call Marygrove their home the holiday experience they will always remember.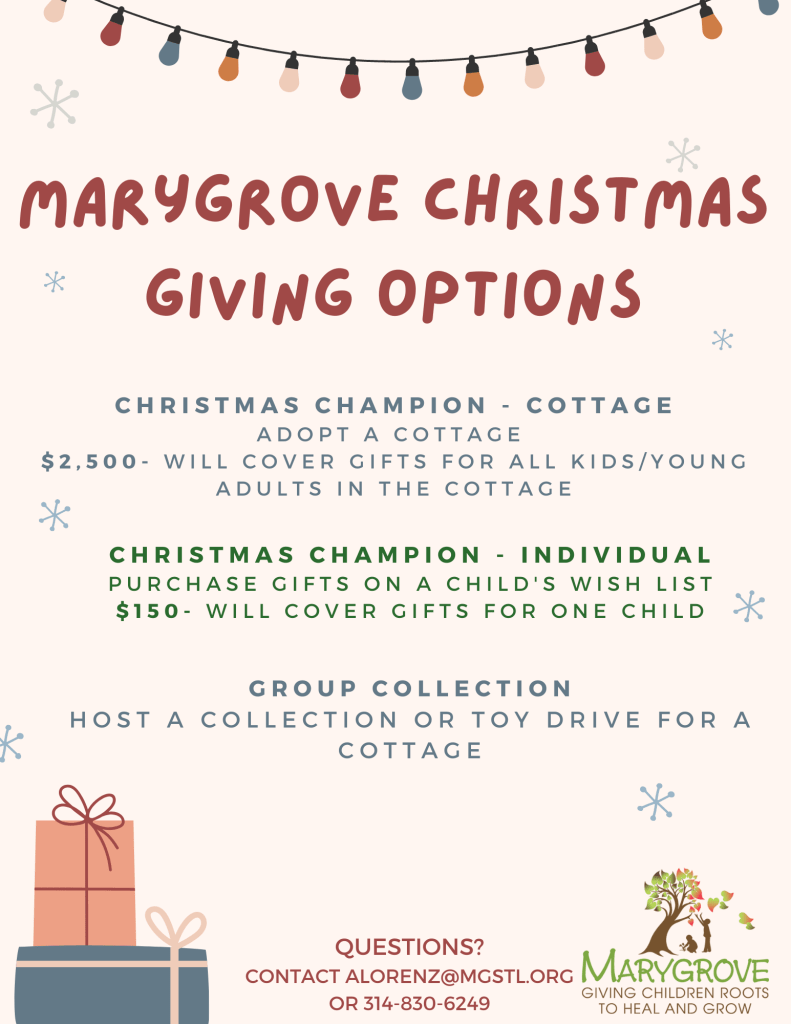 Thanks to the outpouring of love and support by our generous community, all of our residents have been adopted for Christmas and they will receive the items they put on their wish list! We are still looking for your help to turn Christmas dreams into a reality for the young people who call Marygrove their home. Outlined below are the simple ways you can bring Christmas to our youth:
Make a financial gift to help cover costs of presents, outings, and festivities for our kids during this Christmas season

A donation of $150 will pay for the gifts on one child's wish list
A donation of $2,500 will pay for the gifts for all the children in one residential cottage

Purchase items or host a collection for general wish list items for our cottages/programs. Drop them off, unwrapped, at Marygrove by December 15th. Contact Annie Lorenz to secure a wish list.
Funds raised in excess of Christmas needs will still benefit the service of our children and will be used in area of greatest need to ensure our kids receive the best care possible.
For additional information or if your organization is interested in hosting a Christmas drive for the children of Marygrove, please contact Annie Lorenz at alorenz@mgstl.org or 314.830.6249.
Marygrove Christmas Cards
Box Set (12 cards) = $14.00
All proceeds benefit Marygrove! The artwork on the cards were created by Marygrove residents.
Inside Messaging:
Design #1: The gift of love. The gift of peace. The gift of happiness. May all these be yours at Christmas.
Design #2: Wishing you a joyous holiday season and a peaceful New Year.
Design #3: May God bless you with a festive, loving and peaceful celebration this Christmas and all throughout the year.
Design #4: Wishing you a joyful holiday season and a very prosperous New Year.
Please email alorenz@mgstl.org to arrange for pick up. We are unable to offer shipping at this time.
---