The Marygrove School

---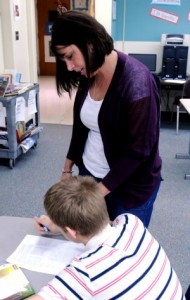 The Marygrove School is an on-campus private special education school for children who require more therapeutic support throughout the day. It also offers tutoring, summer school and academic support for all residents.  The school provides each resident with an educational pathway that will help them achieve academic success and promote positive treatment plan outcomes.  It works in collaboration with over 20 community schools to ensure the best possible educational experience.
On-campus classes are a year-round activity. Students attending on-campus classes are working towards being mainstreamed into area public and special education school districts. These students attend remedial classes in reading, math, language and art to try to meet that goal. To assist the students, Marygrove's classrooms include Hazelwood School District teachers. The teachers' services are available through Title I program funds.
Marygrove residents who attend Hazelwood schools and on-campus classes during the regular school year are eligible to participate in the Title I program. Under Title I, the Hazelwood School District receives a grant to provide these classes to disadvantaged children. The classes are aimed at correcting academic deficiencies in those Marygrove residents who are students in the Hazelwood School District.