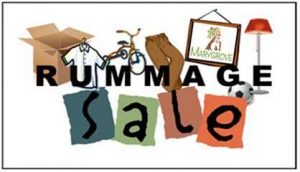 Marygrove's Rummage Sale has been a longstanding and celebrated tradition. We are thankful for our staff, donors and volunteers who have been incredibly generous over the years by providing resources for run this long-loved event.
We are restructuring our donation process and will be retiring our bi-monthly Sale. Our FINAL Rummage Sale will be held on:
September 13, 2019 
As of September 3rd, we will ONLY be accepting new and gently-used clothing donations for infants, children and teens. 
Please direct your (non clothing) donations to one of our local partnering organizations below:
*Garage Sale Store & Donation Center
(a portion of their proceeds benefit Marygrove)
St. Vincent de Paul Thrift Store
STAY TUNED…

f

or exciting new opportunities to be involved with Marygrove!