PGA TOUR Champions Coming to St. Louis in 2020!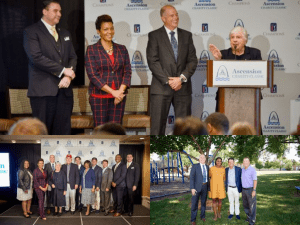 Ascension & the PGA TOUR Champions are bringing professional golf to St. Louis to benefit local charities! Marygrove, along with Boys & Girls Club of Greater St. Louis and the Urban League of Metropolitan St. Louis have been named as beneficiaries! 
The inaugural Ascension Charity Classic will debut September 28 – October 4, 2020 and will feature 78 PGA TOUR Champion professionals at Norwood Hills Country Club in North County. Marygrove's CEO, Joe Bestgen and former CEO, Sister Helen Negri took center stage at the announcement last week to express their gratitude. Stay tuned for more exciting updates! 
Click Here to learn more and purchase tickets for the Ascension Charity Classic!
Click Here to view highlights from the PGA Tour Champions press conference.