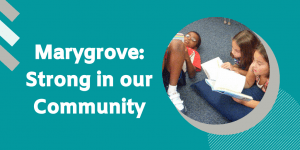 Dear Supporters,
I hope you and your close ones are safe and healthy.  These times are unprecedented, but the needs of the vulnerable children at Marygrove have not changed.  We remain open to continue caring for the over 200 youth who rely on us.  We continue to provide basic necessities like shelter, food and clothing along with medical care, therapy and counseling to our residents.  While we have suspended on-site volunteers and outside visitors, we are launching remote opportunities to support our mission of helping children, youth and families overcome the issues they face due to abuse, neglect, abandonment, homelessness and other trauma.
Now, more than ever, coming together is essential.
How you can help.
Your donation will allow us to support the children who depend on Marygrove.
$25 can provide a welcome kit of basic personal care items for a new resident, many who arrive with only the clothes they are wearing
$50 can provide supplies for activities to encourage learning and growth until school can resume
$100 can provide a week of groceries for an Independent Living resident and her children
$250 can provide a month's supply of allergy medicine for one cottage
$500 can provide dinner for all children and their caregivers on the Marygrove campus
Thank you for your care and concern.  We will get through this challenging time together.
With deep appreciation,
Joe Bestgen
Chief Executive Officer